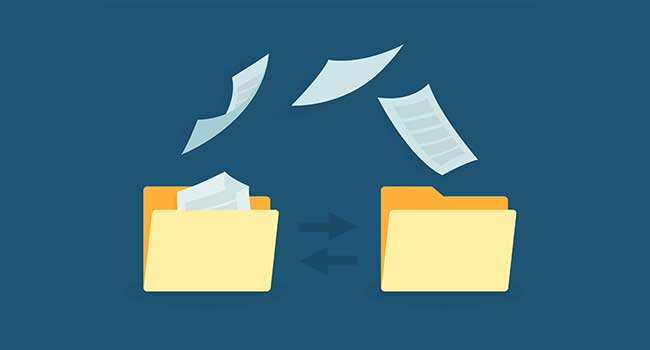 Were you seeking a place to share files for free? Here are a few of the greatest you can find!
Anyone and everyone can now easily share cloud-based data thanks to the internet. File sharing is something that everyone is familiar with, whether you work for a corporation, freelance, or just want to share amusing dog videos with friends, family, or business contacts.
Thanks to the "cloud revolution," there are a plethora of ways to transfer files over the internet, but are they any good? Let's take a look at some of the most popular free file-sharing services and see how they compare.
Check out this list of 11 free file-sharing websites!
Look no further if you're curious about the various free file-sharing services available. We've compiled a list of some of the best and most popular file-sharing websites available right now:
Google Drive
Google Drive is a file-sharing service provided by Google.
Let's start with the file-sharing service provided by the internet's top page, aka Google! Google Drive is a cloud storage service from Google that allows you to store documents, files, audio, and videos, among other things.
As long as you have the login details, you may access your Google Drive files from anywhere and on any device! Google Drive provides 15GB of free online storage for all of your documents, spreadsheets, and media files, but you can always upgrade if you require more.
Google's whole office suite has robust and useful smartphone apps, allowing you to work from anywhere, at any time. The straightforward, simple, and user-friendly design of Google Drive makes it simple for the typical user to jump on board and save and share material with peers.
Jumpshare
Jumpshare is a file-sharing service.
Jumpshare, a single platform for file sharing and visual collaboration, is another excellent file-sharing tool. Jumpshare is an outstanding and simple-to-use platform that integrates file sharing, screenshots, video recording, GIF creation, and team collaboration.
Simply drag and drop your files onto the Jumpshare tray icon to instantly get a shared link. You can then forward this link to our teammates for their input. Jumpshare eliminates the need for back-and-forth emails by allowing you to share input on the file itself via comments and tagging.
You may also use the platform to attractively organize anything, from professional data to personal photos. You may then organize such media into folders that you or your entire team can access. Other significant capabilities include the ability to capture and annotate screenshots as well as the ability to convert screen recordings into GIFs!
OneDrive by Microsoft
Microsoft OneDrive is a file-sharing service provided by Microsoft.
OneDrive, Microsoft's response to GoogleDrive, is a safe and secure cloud storage solution. Users can save files and photographs to OneDrive and access them from any device, at any time.
Microsoft offers safe and secure ways to exchange and collaborate on material with coworkers and colleagues both inside and outside your company, boosting productivity and efficiency.
OneDrive is bundled with Office 365, allowing you to collaborate on Office documents across browsers, mobile devices, and desktop apps. You may even make changes to your files while not connected to the internet, and Microsoft will automatically upload the changes the next time you connect.
How To Embed OneDrive Files In Your Documents is a related article.
Box
Box is a file-sharing website.
Box is the go-to file-sharing solution for the more professional crowd. The two services, Box and Dropbox are frequently pitted against one another. The fact that Box is specifically created for businesses and the IT sector to exchange, modify, and protect information via the cloud, whilst Dropbox often caters to the consumer public, is a major distinction between the two.
Data can be seamlessly transferred from your PC to the Box cloud using Box. For improved results and comprehension, you can ask coworkers to participate, join in on any topic, or edit files together.
You have complete control over who can see, share, modify, and upload your files, as well as a variety of security and privacy choices. You can also send huge files rapidly through the cloud.
The Business plan is $15 per month per user. It comes with limitless storage with a 5 GB limit, Microsoft Office 365 integration, and unique branding options. The free plan has a storage restriction of 10GB and an upload limit of 250MB.
How To Embed Live Box Files Into Your Documents is a related article.
Amazon Drive
Amazon Drive is a file-sharing service provided by Amazon.
Aside from their enterprise-level storage solution, AWS, Amazon also has a consumer-based cloud storage service, Amazon Drive, which was originally known as Amazon Cloud Drive but has since been renamed.
Users can upload all of their multi-media, such as images, movies, and files, to Amazon's cloud and access it from anywhere. Users may set Auto-Save to back up their photographs and videos on their phones, which is accessible for Android and iOS.
Amazon Drive provides unlimited cloud photo storage and 5GB of video storage for Amazon Prime customers. You can acquire the Drive's 1TB plan for $60, which is extremely affordable by market standards! Overall, Amazon Drive is an excellent file-sharing tool because it provides a central location for all of your data at a fair price.
Dropbox
Dropbox is a file-sharing service.
For a long time, Dropbox has been the gold standard for file sharing and storage. Dropbox, another file-sharing behemoth, provides cloud storage to save all of your information in one location. It also has desktop and mobile interfaces to keep all of your data in sync and accessible.
Dropbox has become a popular choice among users thanks to its user-friendly interface, seamless synchronization between desktop, cloud, and mobile devices, and dependable servers.
Dropbox is a cloud storage workhorse because it integrates with over 100,000 third-party apps. However, the free account comes with only 2GB of storage, which is significantly less than what Google Drive or other services offer.
Hightail
Hightail is a file-sharing service.
Hightail, originally YouSendIt, is a file-sharing service that focuses on group collaboration rather than individual sharing. Hightail is based on the concept of "Spaces," which allows team members to communicate and share files such as films and photographs.
This type of interface, on the other hand, maybe perplexing to the typical user. Hightail, on the other hand, makes it simple to upload and share files; whether you like to drag and drop files or import information from other services like Dropbox or Google Drive, Hightail makes it simple to publish and share your work.
Hightail's free plan is a bummer, with only 2GB of storage space and a 100MB file limit. Hightail isn't the solution for you if you're searching for a simple way to store and exchange files.
Mediafire
Mediafire is a file-sharing service.
Whether you're sharing photographs, videos, audio, or documents, MediaFire can help you get more done in less time. Mediafire is a file storing and sharing service that offers 10GB of free storage and a 4GB file upload limit.
After you've uploaded your files, you may easily distribute them via email, link, or social media. More than 840 million people use MediaFire every month to send and receive files with their friends, family, fans, coworkers, and clients, making it one of the most popular file storage and sharing services.
Mediafire now offers mobile apps for Android and iOS, allowing you to access your files from anywhere at any time.
ShareFile
Sharefile is a website where you may share files.
Citrix ShareFile is a new file storage solution from Citrix, the digital workspace company. Citrix file storage and sharing are designed specifically for businesses that need to transfer huge files most safely and securely imaginable.
Sharefile is a secure managed file transfer (MFT) software that comes in handy for businesses that need to store and distribute highly sensitive data and proprietary information.
Sharefile is one of the best MFT solutions on our list because it offers world-class security, password protection, an intuitive UI, and easy connectivity with third-party storage services like Google Drive, SharePoint, Box, and Dropbox, all for $16/month.
Zippyshare
Zippyshare is a website where you may share files.
Isn't it true that we can't talk about free file-sharing websites without mentioning Zippyshare? Zippyshare is a free file-sharing service with no limits on downloads or uploads. However, you can only upload files up to 500MB in size, and all files are deleted from their servers after 30 days.
Zippyshare provides unlimited disk space and does not require you to create an account. Anyone can quickly share the submitted files with them by email, message, or social media. Zippyshare's user interface isn't the most visually beautiful, but its ease of using more than makes up for it.
DropSend
DropSend is a file-sharing service.
DropSend calls itself "the" platform for sending huge files. DropSend, on the other hand, considers huge files to be filed up to 8GB in size. DropSend allows you to upload files to its server and then provide a download link to the recipient via email if you're having trouble delivering files as email attachments.
256 AES High-Level Encryption is used to secure files uploaded to DropSend. DropSend Direct allows users to quickly and easily drag and drop multiple files from their desktop.
You won't have to worry about interrupting uploads or a poor Internet connection because the upload will resume as soon as you reconnect to a solid network. The free plan comes with 4GB of storage but only 5 "shares" per month, which isn't a great offer.
Conclusion
So there you have it: some of the top free file-sharing websites available right now on the internet. Sharing files from one area of the world to another appears to be a pipe dream, especially if you are old enough to remember USB sticks and email attachments.