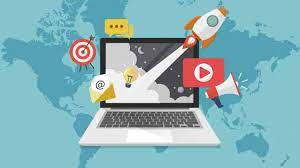 The demand for digital marketing is growing year after year in today's competitive environment. Digital marketing is more than just setting up a website and social media accounts. Thousands of firms start up every year, but only a few manage to stay in business.
Small businesses generally lack the means to prioritize the channels on which they should concentrate their digital marketing efforts. As a result, several online marketing organizations offer digital marketing services that can assist your small business in increasing its visibility.
Here are a few things to keep in mind when it comes to digital marketing.
Builds brand loyalty and enhances brand repute
Online marketing efforts are less expensive than offline marketing campaigns.
Provides the opportunity to generate more leads and increase conversions
Assists small enterprises in increasing their revenue.
Provides a platform for daily engagement with the target audience.
Mobile consumers' needs can be met through customization.
Instills consumer confidence and trust
Encourages customers to take action
Aids enterprises in surviving in a competitive market.
Now that you know why digital marketing is vital, let's look at the benefits of digital marketing to see how it may aid small businesses.
Reach out to a Wider Audience
Thousands of people use the internet every day to research services, goods, and brands.
Nearly 4.66 billion people will be online by October 2020. This amount represents 59 percent of the entire world's population. Not only are these customers actively looking for things on the internet, but they are also more inclined to prefer brands that have a solid online reputation and appear higher on search engine results pages (SERPs).
Small businesses can take advantage of this opportunity by creating optimized content and implementing a targeted internet marketing plan. It doesn't matter what kind of business you're in. When your clients or potential customers are online, you may use advertisements and location-based internet marketing to attract their attention.
Maintain a Reputable Online Presence
Consumers are more inclined to contact you for extra information after learning about your company online. Even locals who pass by your store, restaurant, or salon prefer to look at your website first to get a sense of what services and prices you provide.
Even the tiniest businesses are now required to have a website that highlights their services, the people who run them, and a summary of their products and pricing. Start with an engaging and interactive website if you want to make an impression on your customers. Creating social media pages and maintaining your profiles regularly can help give your online presence more legitimacy.
Attract Local Clients
Although small businesses can utilize digital marketing to gain greater visibility, converting local users is the most effective strategy to develop a steady stream of consumers.
When customers are seeking services or products, they frequently key in 'near me' to locate the nearest business or brand.
As a result, establishing a strong online presence and listing your company in Google Business Pages might help you stand out from the crowd. Small businesses can use a Google My Business listing to convey information to potential clients.
Your potential clients will be able to contact you simply if you list your business in the appropriate category and provide your address, working hours, and phone number.
Increased Participation
Small business owners can express their human side by updating their websites and maintaining their social media sites. A blog area on your website, for example, delivers great content to your visitors while also assisting you in building your mailing list to conduct a successful email marketing strategy.
Similarly, your social media profiles can help increase engagement and can be used to market new products and services.
Analytical Tracking
In order to create your next digital marketing campaign, you'll need to use analytics. Because, unlike traditional marketing, which is difficult to analyze, digital marketing allows you to track critical indicators like engagement and conversions.
Small businesses can evaluate the smallest components of their next campaign thanks to digital marketing. Business owners that aren't tech-savvy outsource digital marketing to agencies, which employ skilled and certified specialists to monitor and manage analytics and outcomes to assess the success rate of your campaign.
Increasing your return on investment
Minimal business owners can start with a small budget to evaluate how their marketing efforts can create more money because digital marketing is scalable. Small businesses can benefit from sponsored advertisements, optimized content, location-based marketing, and social media marketing.
Digital marketing is incredibly effective, allowing small business owners to reach out to and connect with more customers than traditional marketing methods. Even if you manage a tiny brick-and-mortar store, it makes sense to start implementing digital marketing into your business plan.
Improve Your Understanding of Your Audience
Small firms can engage with their prospects via digital marketing. As you grow to know your most devoted consumers, you begin to gain a better understanding of their purchasing habits and preferences. You figure out how they communicate and how much money they have available to spend on different items.
Small businesses have an amazing opportunity to learn more about their customers and users through social media. You can also conduct a poll to see how you can improve your services and prospects.
Cost-effective and affordable
Digital marketing is one of the most cost-effective kinds of advertising. Small firms aim to do all tasks on a tight budget. This is one of the reasons why this type of marketing can raise sales and brand awareness for small businesses without costing a fortune.
A PPC campaign or a Facebook ad is far less expensive than traditional TV or radio advertising. Furthermore, small businesses have the opportunity to promote their brand and services to a larger audience. What could be more appealing than that?
Conclusion
Now that you understand how digital marketing benefits small businesses, use this guide to create and enhance a strong online presence that will capture and convert more leads, resulting in increased earnings.